Selling your home online at the age of 80… what could go wrong? Read the amazing story of Cyril, the elderly vendor proving that you don't need to be a Millennial to get on-board real estate technology.
It's an unlikely pairing — an 80-year-old vendor and an online bidding platform that's at the forefront of property sales. But that's exactly what happened when Mint Real Estate, and founder of Openn Negotiation, Peter Clements met Cyril who was looking to sell the Claremont home his mother had lived in for over 70 years.
Not only did Cyril's property sell using the platform, it sold in 24 days to a Qantas pilot who was bidding from London – much to Cyril's shock and amazement.
To see Cyril share exactly how he was able to achieve such an amazing result, watch the video below.
The method 
When Peter signed Cyril up to sell via Openn Negotiation platform, Cyril was taken aback.
"I've built and sold 6 houses in my lifetime and I'd never heard of this," he said.
In an Openn Negotiation, buyers enter a starting price for a property on the Openn app and then submit their chosen terms, including settlement date, deposit and finance conditions, for the seller's consideration. Once approved by the seller on the app, the buyers can see the current bid, how many bidders there are and exactly how long until the final bidding stage.
By pre-contracting buyers, the vendor knows up-front how many buyers are actually taking part in the process and what they're willing to pay, providing invaluable information into how much market-demand exists for their property.
The online platform and app has so far been responsible for the sale of $572 million worth of property in Australia, with 2024 properties listed, 12,000 bids pledged and 17,000 registered users.
Properties often sell faster with Openn Negotiation – Cyril's home sold in 24 days – and the vendor can track the real-time market value of their home every step of the way. Bidding on the platform can start from day one, and the process maximises the number of buyers who are able to take part, by allowing buyers with flexible terms to participate and providing the ability to bid anywhere, anytime.
"We had three interested people. You're not going to believe it, one of them was from London!" said Cyril, who was delighted by the process and quickly warmed up to what was a foreign concept for him at the beginning of his involvement.
The result 
"I thought I was growing another leg, I was like a dog with two tails, it's as simple as that. I thought – I can't wait to get onto the phone to my brother and sister," said Cyril, who summed up the excellent result in his unique way.
"I have to say to you, that's the word, it's remarkable. Because not having experienced it before, made it all the more interesting. You feel as if you're getting every cent you're going to get."
Peter had initially told Cyril the property would go for between $1.1 and $1.2 million, but with a bit of a spruce up and the Openn Negotiation platform, it soon surged past Cyril's hopes. Towards the end of the bidding process, with five active bidders taking part, the figure rose and rose, landing at almost $1.44 million.
The winning bidder was a Qantas pilot, who was bidding out of London, much to the surprise of Cyril.
"I thought 'hang on, is this really happening?' This is real," he said.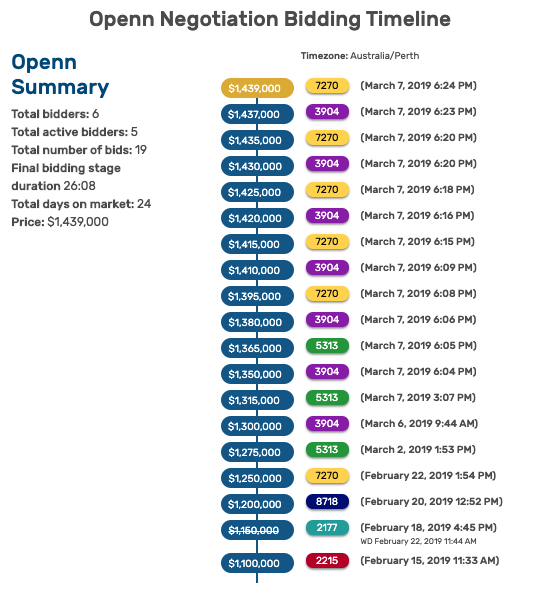 Mint Real Estate Agent Peter Clements said Openn Negotiation helps agents demonstrate value to sellers and he was delighted to be able to deliver the 80-year-old such an excellent result.
"Sitting with Cyril on the night, watching it all unfold on the big screen – the experience certainly has all the emotion of a traditional auction," said Peter.
"Under traditional sales methods, a lot of what the agent does is done behind the scenes, so seller doesn't necessarily see all the hard work we're putting in.
"With Openn Negotiation, the seller can see everything happening in real-time. They are notified every time a new bidder joins and can see how much they're bidding. It really helps them to understand where the market is pricing the property, throughout the whole campaign.
During the final bidding stage, I have the buyers on speakerphone so they can hear me negotiating strongly on their behalf."
Cyril was overjoyed with the result, and he says he wouldn't use any other method now that he's seen the outcome Openn Negotiations can deliver.
"The experience of seeing how this works compared to what I'm used to, I wouldn't go another way. I really wouldn't," he said.
"Openn Negotiations I feel, I think it should be handled by every agent. Because it's genuine.
"Nobody could go through this, and not feel confident at whatever the final result is. You know you've squeezed every drop out of the lemon."